Christmas in August???? I am SO not ready to start making Christmas cards. I haven't even gotten to Halloween yet! I just made my first autumn card yesterday.
But the vintage style fall card I finished on Saturday did put me in that vintage/shabby chic mood so that's the approach I took to making a card for the
OCC Challenge
.
I am also entering this card in two other challenges with a Christmas card theme this week:
Dutch Dare Challenge Blog
Creative Card Crew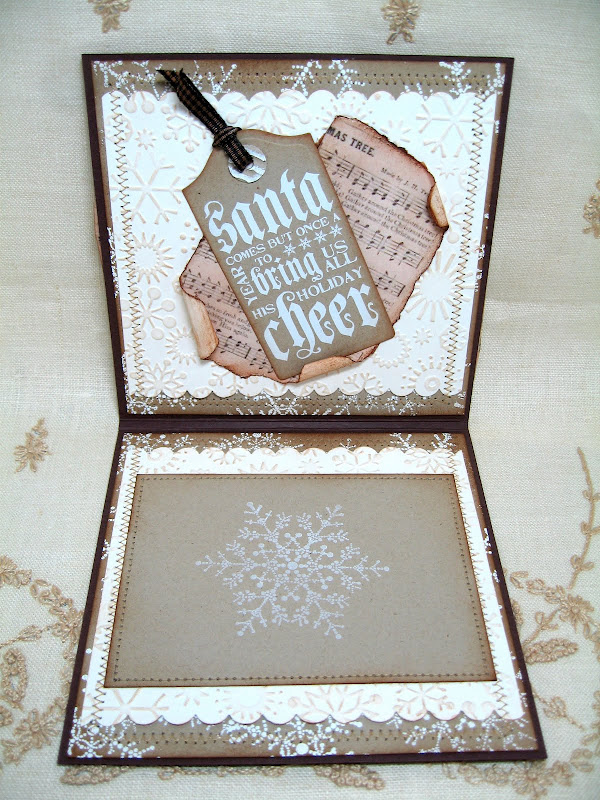 I really had fun with this one. I started with SU kraft card stock, running a piece through my crimper and slathering it with Tim Holtz crackle paint then added a piece of white cardstock embossed in a snowflake pattern and lightly sponged with my favorite distressing ink - SU's Creamy Caramel. An old sheet of Christmas music was printed out from an image on
The Graphics Fairy's website
, torn and sponged with Creamy Caramel and Tim Holtz Vintage Photo inks. All of this was mounted on a layer of kraft on which I had embossed snowflakes with white EP and then sponged with Vintage Photo. Add a bit of gingham ribbon, a glittered chipboard snowflake, a tan Prima flower and a bit of hemp and this card was good to go. Well, almost anyway. I did finish off the inside. I made a tag with a cute rub-on sentiment from SU. Would you believe, that's my first rub-on? I have several sheets in my stash, but have never actually pulled one out and used it - LOL!! I added another distressed piece of music for good vintagy measure. The only stamping was the snowflakes from The Snowflake Spot by SU. The santa image is a vintage digital from LunaGirl.