It's Saturday and that means another challenge at
Our Creative Corner
. This week, Jocelyn Turner, our January host has come up with a sweet sketch for us to follow. I saw her pretty sketch with the sentiment image as a heart and it started me off in the direction of a Valentine's Day card. I seem to be favoring pink and chocolate brown lately so when I picked the pink DP, I automatically gravitated towards brown. I browsed through my computer files of vintage images I had saved and came up with this pretty little Victorian miss surrounded by pink roses. It was a freebie from Heidi's wonderful blog
Sabby Chic Papirskatter
.
The pink DP is from last year's SU Bella Birds, the solid pink is Pink Pirouette. I stamped the edge in Close to Cocoa with a pretty flourish stamp from
Waltzing Mouse Stamps
, then roughed up the edges with my scissors and sponged them pretty good with Close to Cocoa. A row of straight stitching finished it off.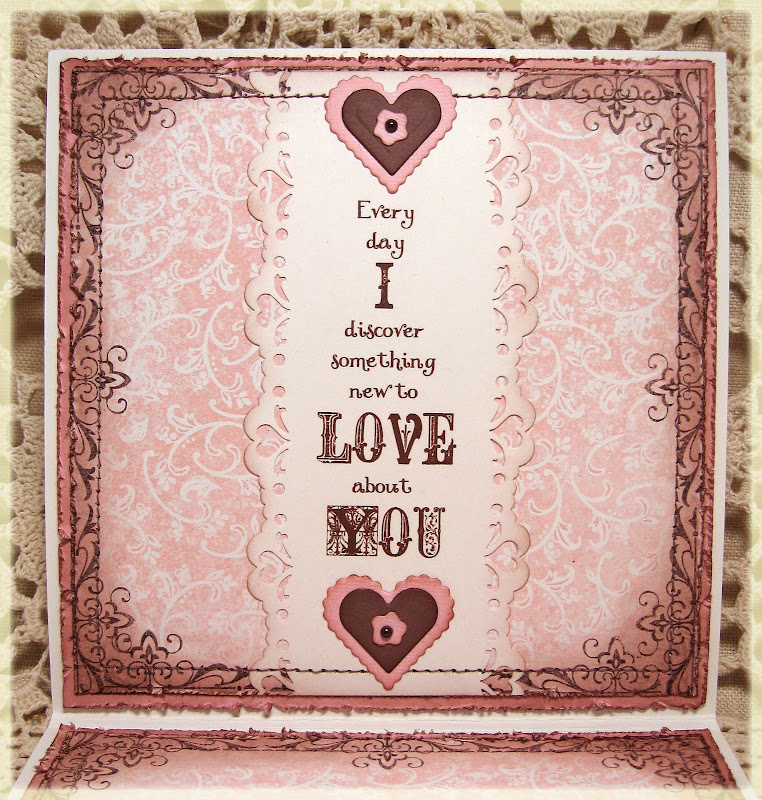 I used a couple of Spellbinder dies plus a Fiskar's edge punch on the inside. The inside sentiment is computer generated.
I used another handmade paper flower with a pretty Memory Makers brad on the inside (it's going to be a lumpy sort of card). The leaves are a Sizzlets die I got from SU.
Please hop over to
Our Creative Corner
and see what the rest of the design team came up with for Jocelyn's sketch. And if you get time, drop by their blogs and see what else they've been up to lately. It's sure to inspire you!
Also, this card is having a blast playing in the following challenges:
Update: This card was featured on
Card of the Week
.