I've been having fun entering challenges lately. Usually I check to see what kind of challenges are going on at the moment and then make a card that will hit a few of them. But I was seized by the need to create this card and just went for it without trying to match it up with any challenge. I spent about an hour this afternoon surfing the challenge blogs, but nothing seemed to match up. So here's my card, all lonesome with no challenge to play in.
Oh well, I really did enjoy making this. I love the soft beachy feel to it. Sort of like weathered driftwood or cushions on a wicker chair that are faded by the coastal elements of sun and salt.
I started the card with digital download paper by Debbie Knorr at
Scrapbook-Byte
s. I actually went blog surfing looking for some digital paper that gave me the feel I was looking for for this card. This
Casual Vill
a paper pack really hit the nail on the head! It was exactly what I was looking for. I am pretty new to all the digital paper and elements, but I plunged in and printed my own paper on my home printer. I did go out and buy some heavier weight paper to print on to give my card a more substantial feel to it.
I stamped the images with Chocolate Chip in. I deliberately did not color them in to continue the faded feel of the card. All the edges were scissor distressed and sponged with Creamy Caramel ink. The Coconut Hill element is a Melissa Francis sticker that I popped up on craft foam after distressing it by sponging it heavily with Creamy Caramel ink and scratching it up a bit using a Tim Holtz distressing tool. I added a strip cut with a MS edge punch and a few Prima flowers, buttons, ribbon and hemp. The beautiful inspiration saying on the inside of the card is a stamp from Rubbernecker. All other stamps are from the Flourishes Beach Life set. I really gave Spellbinders a workout with this card, using the following Nestabilities: Scalloped Circles, Scalloped Long Rectangles and Scalloped Squares.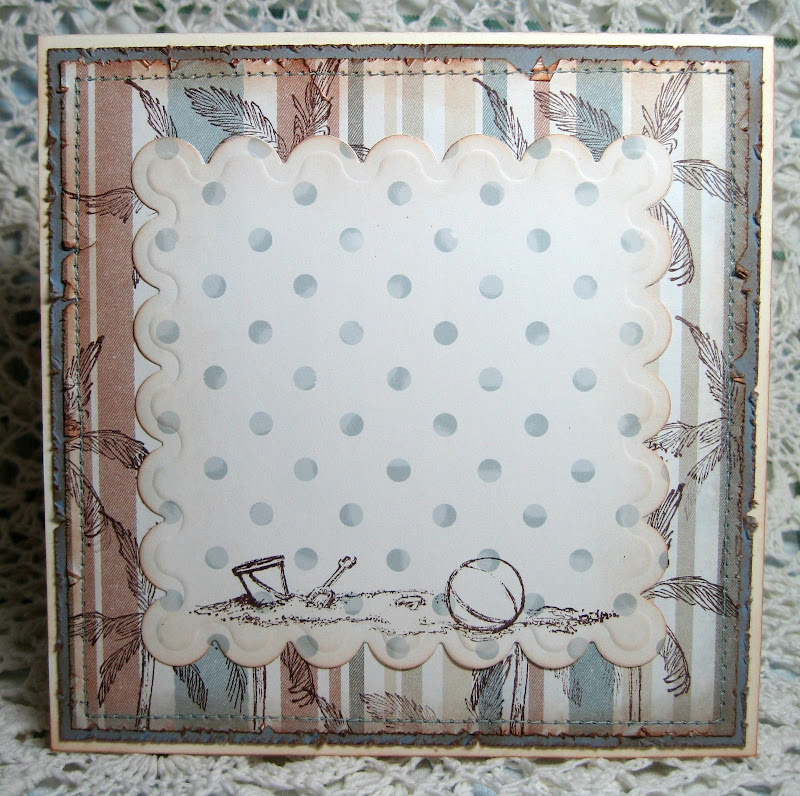 I am really in love with this Flourishes stamp set. I made my last card with it, have just finished this card using it and have one more in the works using it. After making three cards in a row, I will probably put it into retirement for quite a while - LOL!!
Update: This card was featured on Card of the Week.