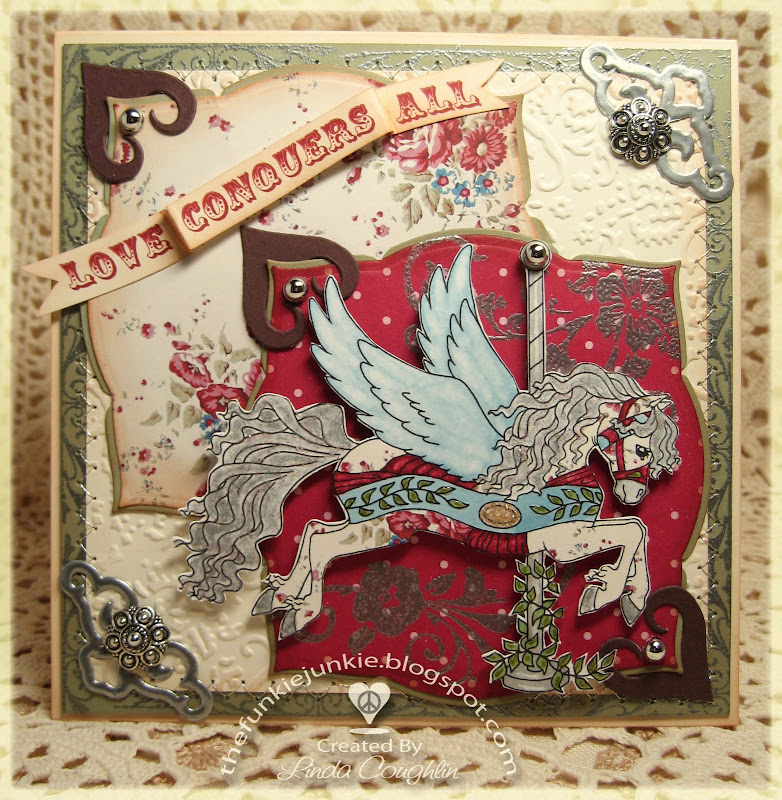 I love that sentiment "Love Conquers All". It's so perfect for this card using the
Wings of Hope
digital stamp from Whimsey Stamps. It's a special limited edition only available through February 28th. All proceeds are being donated to the American Red Cross to help with the Haitian earthquake relief effort.
This is my design team card for this week's
Creative Inspirations
Wednesday challenge. The theme this week is Anyone for Leftovers? I thought Nat came up with such a cute name for a challenge that all of us should be able to take part in. I have a bin brimming with bits and pieces of past cards. I was able to make this entire card (except for the base piece) out of leftovers from cards made earlier this week. The rose chintz and Mellow Moss pieces you will recognize from a pretty vintage Valentine I posted several days ago. You'll see the rose chintz again, as well as the cranberry dotted paper, when I post my quilt card on Friday. The upside down hearts have been in my bits and pieces box for at least six month. They were the punched out part from a Cuttlebug die. I don't know why I didn't toss them, but they finally found a home here on this card.
The rose chintz paper is digital so I was able to digitally paper piece the carousel horse. The rest of the horse is colored with Copics and Stickles were applied to the mane and tail, with a little Crystal Effects on the leaves for dimension. The Love Conquers All sentiment was computer generated. The silver embossed floral flourish is a stamp from Inkadinkado and the silver embossed flourish around the Mellow Moss panel is from Waltzing Mouse stamps. I used the Textile Cuttlebug embossing folder on the cream layer. The silver corner pieces were cut with a Spellbinders die and silver embossed then topped with a bead cap.
If I have missed anything that you want to know about, just leave me a comment and I'll be happy to share.
Blessings,
Challenges entered: